Brewing your best "cuppa"
Author: Directors of Tea Leaves Date Posted:1 May 2019
Our 5 Golden Rules
Brewing is the most crucial step in your enjoyment of tea; known to many as steeping.
After you select your tea, there are five golden rules for preparing a delicious cup of hot tea. (based on black large-leaf tea).
Please see back of the pack for individual quantity, and brewing tips:
use a teapot with

an infuser, or
a strainer for best results

boil fresh, cold tap water; use filtered water if tap water is

heavily chlorinated
contains objectionable odours

add one teaspoon (2g) or a tea bag per cup to the teapot

use more for a stronger flavour
use less for a lighter flavour

pour heated or boiling water over the leaves; generally

use heated water for large, green or delicate leaves
use boiling water for black and Pu-erh

time the brew by the clock for 1 to 3 mins and serve

shorter times give more nuanced flavours
longer times give stronger flavours
Experimenting
Try experimenting, using the guidance notes below as a starting point.
Example 1: If your green tea leaves taste bitter or unpalatable try lower temperatures and brewing times to improve the taste. If your green tea still tastes unpalatable try adding Honey or Hibiscus to the brew.
Refer to our Blog
TEArecipes Enhance green TEA taste
Example 2: Black tea variations range between high-grade, large loose leaf (SFTGFOP 1) to fannings grade (CTC) fine cut or broken leaf grades. Normally, low-grade teas will brew faster than high-grade teas
Temperature
Boiling water is necessary to brew black and Pu-erh tea leaves.
However, boiling water will scorch and ruin the flavour of green, white, oolong and artisan teas. Here are several methods to cool the boiled water
allow the boiled water to stand for 5 minutes before brewing
pour boiled water into the teapot and drinking cups to preheat and reuse for brewing (best practice)
add cold water and use a thermometer.
Variables
When a huge range of different types of dry tea leaves immerse in water and rehydrate, they will all transfer different concentrations of soluble compounds to the hot water.
While all teas share the same soluble compounds, their concentration varies, depending on the combination of leaf growing conditions due to altitude, topography, climate, soil conditions, temperature, sunshine, harvesting and processing; producing an immense variety of tea tastes.
Welcome to our world!
White tea - Pai Mu Tan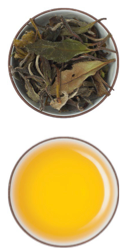 Temperature range 85°C - 95°C
Brewing time 60-120 sec
White tea - China - Jasmine Pearls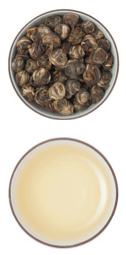 Temperature range 85°C - 95°C
Brewing time 60-120 sec
Green tea pan-fried - China - Dragonwell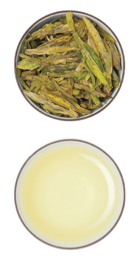 Temperature range 70°C - 85°C
Brewing time 30-90 secs
Green tea steamed - Japan or China Sencha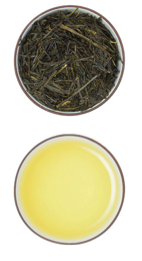 Temperature range 60°C - 70°C
Brewing time 30-90 secs
Green Tea - powdered leaf - Japan - Matcha
Matcha is not brewed in the normal way.
Instead, it is vigorously whisked into suspension with hot water. This is done traditionally with a bamboo whisk called a chasen in a bowl called a chawan. Battery-powered whisks are also used. Typically, matcha powdered is measured with a special bamboo scoop called a chashaku; one gram per scoop.
Measure two scoops into 70-80ml of water at 80°C - 85°C and whisk briskly.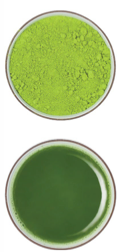 Temperature range 80°C - 85°C
Green Tea - with rice - Japan - Genmaicha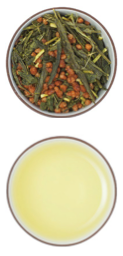 Temperature range 60°C - 70°C
Brewing time 30-90 secs
Oolong tea - Tie Kuan Yin - Iron Goddess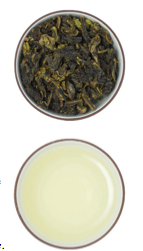 Temperature range 85°C - 95°C
Brewing time 30-120 secs
Black tea - India - Darjeeling Castleton 2nd flush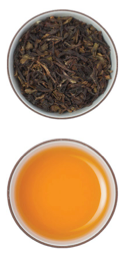 Temperature range 90°C - 100°C
Brewing time 60-120 secs
Black tea - India - Assam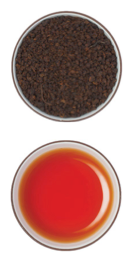 Temperature range 90°C - 100°C
Brewing time 60-120 secs
Black tea - Sri Lanka - Nuwara Eliya region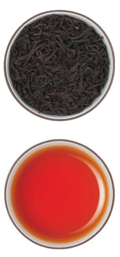 Temperature range 90°C - 100°C
Brewing time 60-120 secs
Fermented tea - China - Yunnan Pu-erh Leaf
Temperature range 95°C - 100°C
Brewing time 30-90 secs
Multiple brews (re-steeping)
Multiple brews are the secret to your maximum enjoyment of those expensive speciality leaves.
As the leaves begin to rehydrate in the water and transfer those soluble compounds to the tea infusion, the taste, colour, body and aroma characteristics all transfer to the hot water until the equilibrium is reached.
However, if the first brew is served and the leaves are drained before equilibrium, the leaves can be brewed again and again in hot water.
This process will yield one, two or maybe three brews; in the instance of a quality white tea like Buddhas Tears (Jasmine Pearls) or a quality compressed Pu-erh tea brick, three or more multiple brews are possible.
Here is my favourite multiple brew method for a single serve. Try experimenting with quantities of tea, water and times, to find the recipe to suit your palate
Slightly increase the amount of tea you use

Add 70-80ml hot water for the first brew and serve after 30-60 secs

Add another 70-80ml hot water for the second brew and serve after 60-90 secs

Add another 70-80ml hot water for the third brew and serve after 1-2 mins
Multiple brews will give you snapshot tastes; they accentuate nuances in the tea that may become muffled or lost, during longer infusions.
Reminder: Once more, the key is to experiment;
keep adding water and enjoy the tea until the flavour fades.
increase tea quantity and extend the brewing time to increase the flavour.
Refreshing Iced Tea
For small quantities, proceed as for hot tea and pour over ice.
For large quantities, prepare concentrate as follows:
Bring one litre of cold water to a rolling boil.
Remove from heat and add 20-30g tea or 8-10 teabags per litre as desired.
Steep for 3-5 minutes, strain and cool to room temperature before placing in the refrigerator to chill.
To serve, pour into tall glasses filled with ice, garnish or sweeten as desired.
---
Leave a comment