Shipping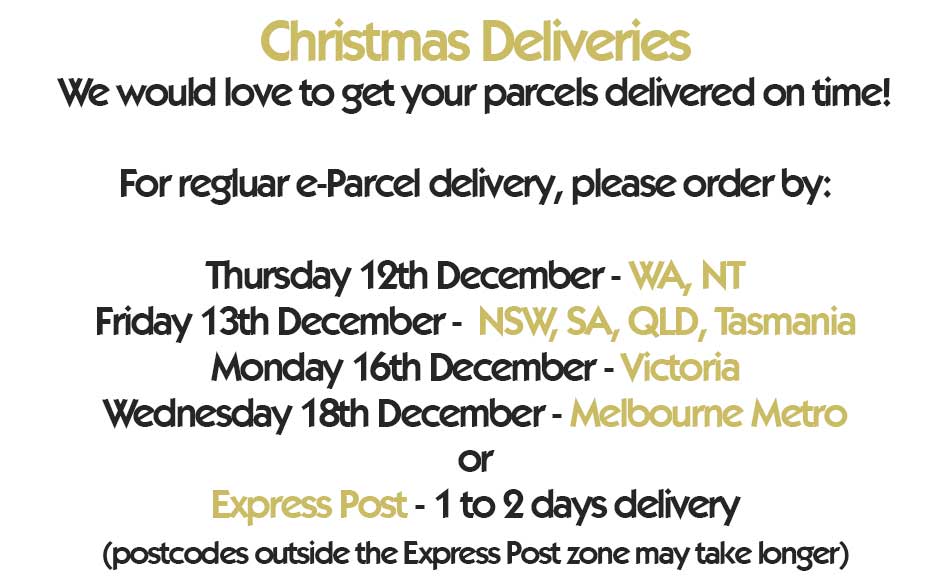 Retail Policy
We post all orders with Australia Post using E-Parcel boxes & satchels. All E-Parcel and box deliveries within Australia, are traceable.
Current rates are effective from 15th April 2019.
Deliveries to regional and remote areas may take longer than the working days quoted.
Delivery rates apply to all Online, Email and Telephone orders
Free Freight over $75 orders (standard eParcel)
STANDARD eParcel (3-5 business days)
EXPRESS ePARCEL (1-3 business days)
no free freight for

International Orders
Wholesale
Up to $75 orders
$8.50 inc GST
STANDARD eParcel
no weight restrictions
3-5 business days delivery (WA, NT allow up to 7 business days)
$15.50 inc GST any order
EXPRESS eParcel
no weight restrictions
1-3 business days delivery to postcodes in the EXPRESS Post Network
longer delivery to postcodes outside the EXPRESS Post Network
Wholesale Policy

(NO FREE FREIGHT)
Shipping costs shall be calculated in accordance with commercial rates offered by contract couriers.
Shipping costs shall be quoted at the time of ordering and shall appear as a freight item on the invoice
International Policy
Tealeaves adhere with Australian Regulations, however, your destination Country may have different importation policies.
Tea Leaves will not be held liable for additional taxes, duties or surcharges that may be payable on delivery in your Country.
Please check with your local Authorities before placing your order.
Due to possible breakage, only Tea products are available for International Orders.
Please email us at info@tealeaves.com.au if you require larger quantities of tea to be posted overseas, or you do not see your country listed. We would be happy to quote on a freight price.
International Express

(NO FREE FREIGHT)
We currently ship to the following Countries using Australia Post
(eParcel International Express with signature and tracking) - 2 to 4 days delivery
NEW ZEALAND
AU$18.00

up to 750g weight
AU$25.00 up to 2kg weight
CHINA
AU$32.00

up to 750g weight
AU$50.00 up to 2kg weight
ASIA (HONG KONG SAR, JAPAN, MALAYSIA, MALDIVES, SINGAPORE, THAILAND, TAIWAN, VIETNAM)
AU$40.00 up to 750g weight
AU$55.00 up to 2kg weight
CANADA, UNITED STATES
AU$36.00

up to 750g weight

AU$57.00

up to 2kg weight
SOUTH PACIFIC (COOK ISLANDS, FIJI, FRENCH POYNESIA, GUAM, MARSHALL ISLANDS, SAMOA, SOLOMON ISLANDS, VANUATU)
AU$35.00

up to 750g weight

AU$56.00

up to 2kg weight
UNITED KINGDOM, IRELAND
AU$45.00

up to 750g weight

AU$68.00

up to 2kg weight
EUROPE 1 (FRANCE, GERMANY, ITALY, NETHERLANDS, NORWAY, SPAIN, SWEDEN, SWITZERLAND)
AU$45.00

up to 750g weight

AU$68.00

up to 2kg weight
EUROPE 2 (AUSTRIA, BELGUIM, CYPRUS, DENMARK, FINLAND, GREECE, HUNGARY , ICELAND)
AU$50.00

up to 750g weight
AU$70.00 up to 2kg weight​
OTHER (UAE, QATAR, GREENLAND, GRENADA, LICHTENSTEIN, LUXEMBOURG)
AU$60.00

up to 750g weight

AU$76.00

up to 2kg weight
Packaging & Despatch Policy
Tea products will be carefully and firmly packaged into Australia Post traceable E Parcel bags or boxes. Any tins or caddies will be bubble wrapped, then packaged.
Tea accessories including Teapots, Mugs etc will be carefully checked and wrapped.
Orders placed online before 12 pm (AEST) Monday to Friday, are generally despatched on the same day.
Online orders placed after 12 pm (AEST) are generally despatched the following working day.
A shipping confirmation SMS will be sent when each order leaves our premises.
Safe delivery to home or workplace
We deliver to Post Boxes
Australia POST satchels & boxes will usually be left at the shipping address, unless otherwise stated.
If your tea does not arrive within the given time please first check with the local Post office then contact us to trace it.
To guarantee safe delivery of your items, we recommend your parcel is sent to your place of business, as items are typically delivered between 9 am - 5 pm

If you need further information, please contact Online Sales & Enquiries +61 3 9764 2000 Ext 2
(8.30am - 5.00pm Monday - Friday) or drop us an email info@tealeaves.com.au